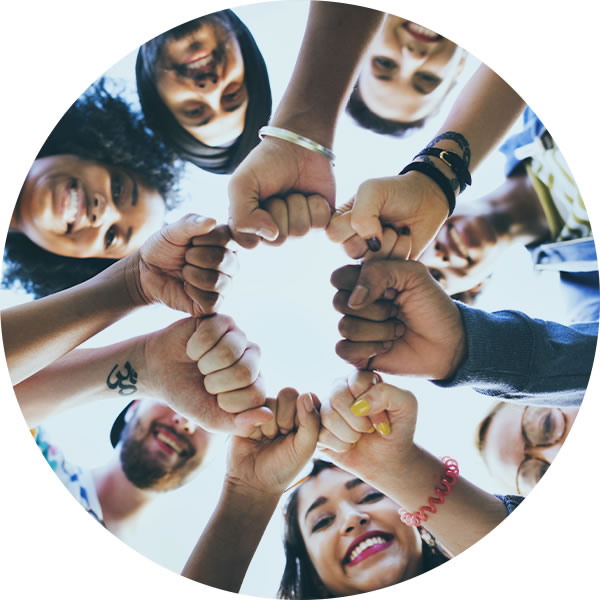 Refer – a – Friend
Spread the wealth and help your friends and family step up their financial game with our Refer-a-Friend program! For a limited time, receive $50.00 for you and a friend or a family member* by referring them to your hometown credit union.
Referring your friends is easy! Simply complete the Referral Form below with your information and give it to your friend. Have your friend provide the completed form when they open their TruNorthern accounts. Within ninety days of opening their new TruNorthern accounts, your friend must open a checking and savings account, use their debit card 20 times, and set up direct deposit.
Download our Refer - a - Friend Form
Refer-a-Friend Cash Bonus Terms and Conditions
Binding Agreement. By completing the "Referral Form" or participating in the Program, you are bound to these Terms and Conditions ("Terms") and indicate your agreement to them. All the credit union's decisions are final and binding.
Privacy. The personal information collected, processed and used as part of the Program will be used in accordance with the Credit Union's Privacy Policy, which is available by link on the credit union's website, located at https://www.trunorthernfcu.org/privacy.php
Refer-a-Friend Cash Bonus Offer. Valid for a limited time only. New Member ("Friend") must present fully completed Referral Form at the time of account opening and establish a membership savings and checking account. New members cannot have any existing accounts (primary or joint owner) within the last twelve months. Referrer and friend cannot begin credit union membership on the same business day.
Account Opening Criteria. Primary Account holder must be a member in good standing that is at least 18 years or older, and meet TruNorthern's Membership Requirements, including opening a checking account and a savings account with a minimum balance of $25.00. Valid forms of identification must be provided by the "Friend" at the time of new account opening for credit to be considered. For complete terms and conditions, please refer to the published Membership Agreement and Disclosures. Please refer to the staff member facilitating account openings for a copy.
Cash Bonus Criteria. To receive the cash bonus, the new account must meet the following criteria within the first ninety days of opening their initial account: new account holder must open a checking and savings account, use their debit card twenty times, and set up direct deposit. An account must be open and cannot be delinquent (more than thirty days) at the time of the bonus payment. Bonus will be deposited into the qualifying checking account and referring Member's account within ten business days in the month following the ninety-day period if the qualifications are met. Referring member will qualify for their cash bonus when the "Friend" opens a checking account, savings account, and uses their debit card ten times. The referring Member must have an open and active share account at the time of bonus payment and be at least eighteen years of age. Employees of TruNorthern Federal Credit Union, its subsidiaries, affiliates, volunteers, agencies, and their immediate family (including but not limited to spouse, parents, siblings, children, grandparents, and grandchildren) are not eligible for bonus offer. Bonus amounts are subject to all applicable taxes and the responsibility of the Member. Bonus cannot be combined with any other account opening offers. Referrals are limited to ten per Member. Terms and conditions subject to change without notice.
Disclaimer of Warranties. Members, Referrers, and Friends expressly understand and agree that (A) The program provided on an "As Is" and "As Available" basis and kind, whether expressed or implied by statute, common law, or custom, including purpose and non-infringement; (B) The released parties make and give no warranty that (i) the program will meet your requirements, (ii) the quality of any products, services, information, or other material obtained by you through the program will meet your expectations.
Right to Cancel, Modify, or Terminate. We reserve the right to cancel, modify, or terminate the Program at any time for any reason. We reserve the right to disqualify any User (defined below) at any time from participation in the Program if he/she/they do not comply with any of these terms.
User. A user is defined as any Friend or Referrer who elects to participate in the Program.
Program Timeline. The TruNorthern Refer-a-Friend Program will expire after 100 successful referrals, as determined by the credit union.